On Monday, Anya Taylor-Joy blushed as her childhood fascination with specific animals was revealed on James Corden's The Late Late Show.
The 25-year-old actress was asked about her strange obsession by James 43, who dressed her in a coordinated floral print outfit with matching boots and gloves for her appearance on the CBS talk show.
'I'm going to come across as a weirdo on your show, and I apologize for that, but it's the truth.' Yes, I was fortunate to grow up with horses, dogs, and kittens, but I was particularly fond of anything that came from an egg,' Anya explained.
'I was enthralled by it. Chickens and ducklings were two of my favorite animals. 'All I wanted was an incubator, but my parents wouldn't let me have one because I was only five years old,' she explained.
READ ALSO: John Terry's wife Toni shows off her incredible physique as she protects her modesty with bubbles in sizzling bath snap
Anya went on to say that she had decided to incubate the eggs herself and that she would steal them and keep them in a pouch close to her.
'I'd carry this around with me, and it got to the point where my mother had to put a lock on the kitchen door because I'd go in every night and steal the eggs,' Anya explained.
The Queen's Gambit actress also admitted to persuading her classmates to follow suit.
Anya revealed that the first argument she had with her parents was because she insisted her egg belonged to the family. James showed a family photo that included young Anya, and she revealed that it was the first argument she had with her parents because she insisted her egg belonged to the family.
In the family portrait, Anya Taylor-Joy was seen holding an egg in a close-up.
James then shared more photos that Anya's mother had sent him without her knowledge.
Anya exclaimed, 'I haven't even seen these,' as James showed her photos with chickens and ducks as a child.
READ ALSO: Bella Hadid Just Blessed Our Feeds With Several Bikini Photos
'I'm sure you haven't.' 'These were sent to us by your mother, and they are stunning,' James said.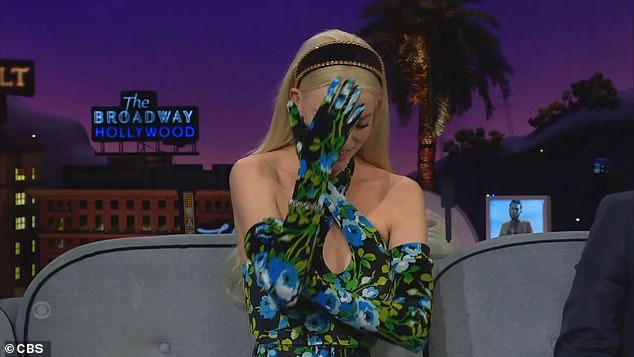 Anya was on the CBS talk show to promote her new film Last Night In Soho, which she called a "very well directed acid trip."
In the British psychological horror film, she plays Sandy, a singer.
On Friday, Last Night In Soho will be released in theatres.