Gigi Hadid 's most recent modelling job resembled her daily life as a mother.
Her two worlds collided on the Moschino runway on Thursday during NYFW, when she modelled the brand's new spring-summer collection, and her campy outfits seemed to pay tribute to her 11-month-old daughter Khai. First, Gigi Hadid walked the runway in a matching nursery-themed print skirt suit with a crop top underneath. She dressed up with earrings that resembled teething rings and a necklace constructed from kid alphabet blocks.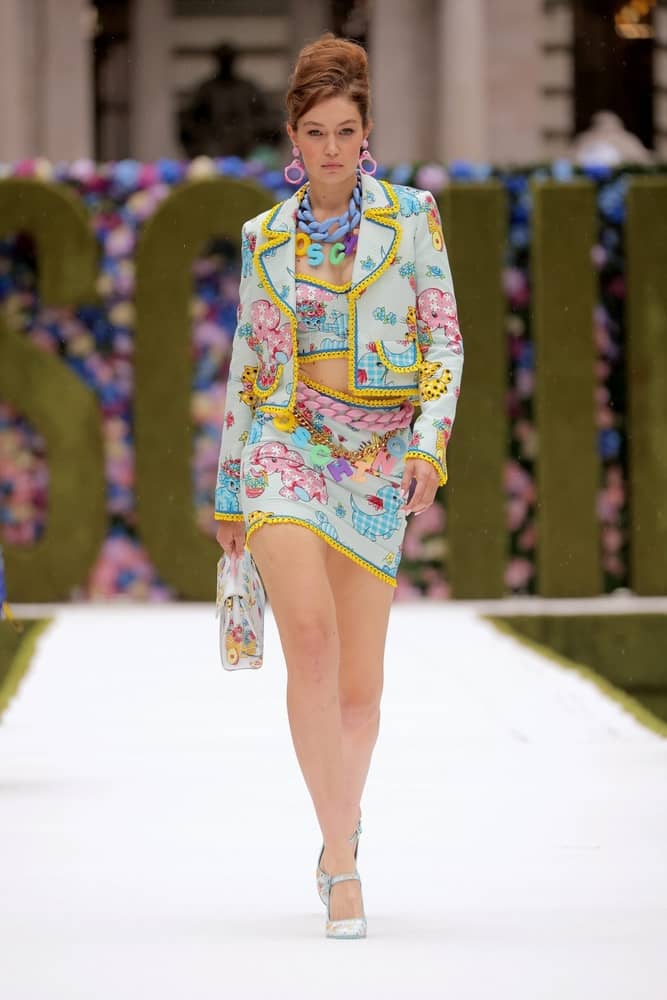 READ ALSO: Everything You Need to Know About September's New York Fashion Week
In a quilted patchwork gown with an elephant's trunk emblazoned on the shoulder and a baby bottle-inspired bag in hand, Gigi took her look to the next level for the show's finale. The supermodel flaunted the accessory by posing, twirling, and even pretending to drink from its nipple.
Gigi shared a behind-the-scenes look at the look on her Instagram Stories, captioning the post "Moschino BABY."
READ ALSO: 8 Scientifically Proven Ways to Lose Belly Fat
Hadid announced her pregnancy in January, revealing that she learned she was expecting Khai the day before walking the Tom Ford show during Paris Fashion Week last year. "I was so nauseous backstage," she tweeted, "but I learned I could kinda control it if I kept eating, so my mom would pack me snacks before each show," she added, adding that her BFF Taylor Swift also gave her bagels.